Numismatics Collection
How it all began
The Collection was acquired by NOVO BANCO in 2007 and is considered one of the most complete collections of its kind.
The Collection in numbers
It is comprised of around 13,000 coins, all minted in existing or past Portuguese territories, from a pre-national period until the establishment of the Republic.
Main characteristics
A journey to portuguese history
Through it we can cover the whole Portuguese history, illustrating through money, our population, culture and nation over the span of more than 2000 years.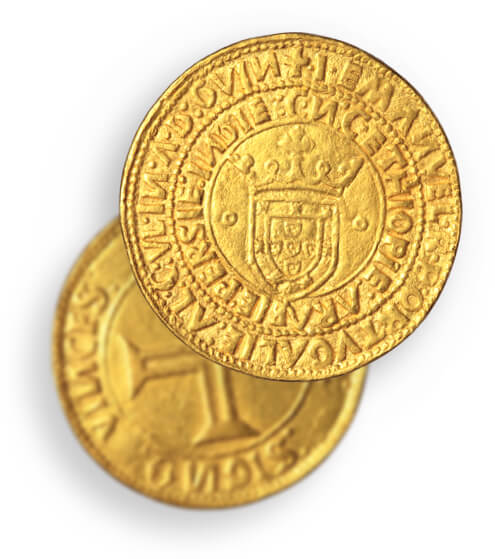 About the Works
From the Pre-national period to to the establishment of the Portuguese Republic
It features examples from before the foundation of the Kingdom of Portugal, namely the Hispano-Roman, Suebi, Visigoth and Arab periods, covering all of the Portuguese kingships and culminating in the establishment of the Portuguese Republic. It has one of the finest examples of Portuguese Numismatics, covering three glorious cycles: the Middle Ages, the Discoveries and the Brazilian Gold Cycle.
From the medieval period, there are some coins that deserves to be highlighted, particularly the coins from the time of King D. Fernando, including the Dobra Pé-Terra and Shield of D. Afonso V, among the great Portuguese coins, representing the young knight king's personal undertaking, the Crusades.
From the Discoveries, a golden age of Portuguese history, comes the "O Português". For around 70 years, this was the richest and most valuable gold coin circulating internationally, accepted as a currency in every commercial transaction. It is one of the milestones of the glorious Manueline Era, and intended to announce Portugal's victory to the world by discovering the maritime route to India.
The third glorious cycle belongs to the Gold coming from Brazil, a territory discovered in 1500, and the source of countless riches. D. João V ordered the minting of one of the most spectacular monetary series of portuguese numismatics. The former Portuguese colonies are also a repository worthy of note, particularly Brazil and India, as the largest known collections.
Partnerships to share the heritage
With the NOVA University – Faculdade de  Ciências Sociais e Humanas (Social Sciences and Humanities), a partnership was held to make the Numismatics Collection available to researchers and academic projects. This protocol of Cooperation with FCSH will boost the visibility and accessibility of the collection to groups of researchers and scholars of the University, becoming a point of reference in a series of studies and academic projects.
Do you want to discover the full history of this legacy? Visit us at nbnumismatica.com.
See More
Close